Discover more from Wild on Purpose
Wild on Purpose is a newsletter and podcast for curious creatives, seekers and sacred rebels from artist & life coach, Kelly Wilde Miller. Explore the journey home to your essential nature.
Embracing Metamorphosis: A Journey of Transformation through Art & Psychedelics
Unfolding Through Color, A Body Painting Project Illuminating the Journey of Personal Healing. Warning: This post contains some nudity.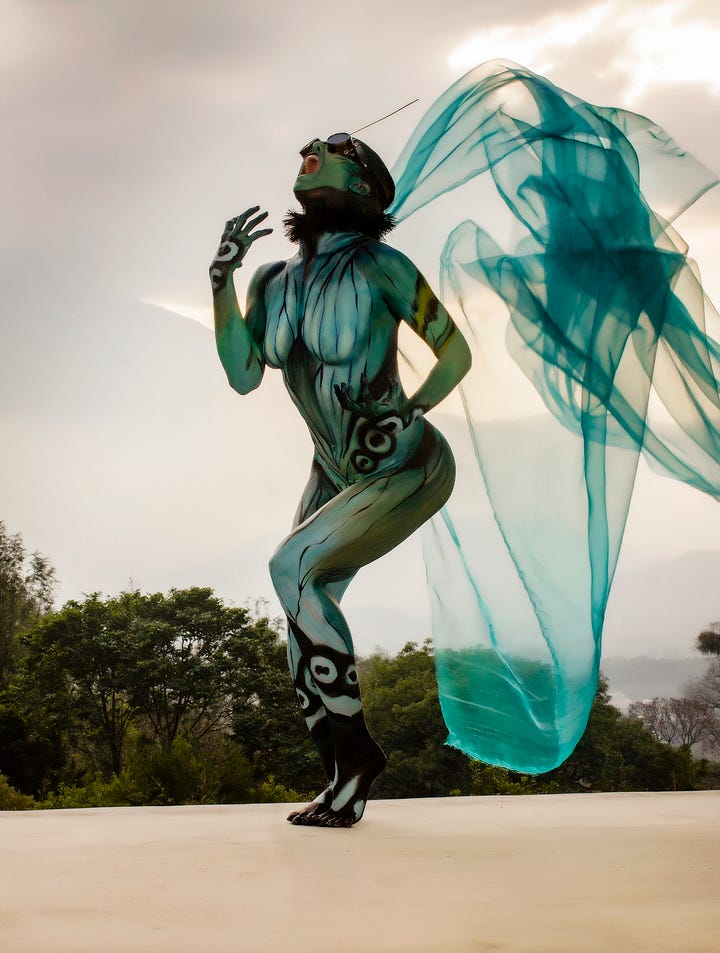 For many years now I've fascinated by the miraculous transformation of caterpillars into butterflies, understanding it as a metaphor for our own human capacity to transcend and be reborn.
In 2021, while traveling through Central America, I decided to take my exploration of this concept further by creating an expressive arts project in which I would be transformed— with body painting and light psychedelics— into a real-life butterfly.
The purpose of this project was to create a meaningful ritual to honor and celebrate my journey through trauma healing, personal transformation and spiritual growth.
For the project, I enlisted the help of a well-known Guatemalan bodypainting artist, Susana Olivia (@susy_oliv), who used paints to adorn me from head to toe (literally, very little skin was left untouched).
I held still for hours while she worked her magic, while having ingested a small amount of psilocybin to heighten the euphoric sensations of the brushstrokes.
Here's my story, a collection of candid and professional photographs, and insight into why I chose the butterfly for this experience. Plus, my recommendations for creating your own expressive arts ritual to celebrate any of your transformational journeys.
Enjoy!
The Death-Rebirth Cycle
"We delight in the beauty of the butterfly, but rarely admit the changes it has gone through to achieve that beauty." - Maya Angelou
The metamorphosis of a caterpillar into a butterfly is a striking phenomenon – it's a symbol of the end of one chapter and the beginning of a completely new one.
This transformation begins when the caterpillar, after a period of voracious feeding, finds a suitable location to form its chrysalis. The chrysalis acts as a protective casing, within which the caterpillar is safeguarded during this vulnerable stage of its life cycle. This is not merely a static pause in the caterpillar's life; rather, it's a time of intense and radical internal restructuring.
Inside the chrysalis, digestive enzymes dissolve the caterpillar's body until it's reduced to a molecular goo. From this soup emerges 'imaginal cells' – which contain the blueprint for the formation of a new creature.
At first, these cells are rejected by the immune system, but eventually, they come together and form clusters with the same vibrational frequency, passing information between themselves until they hit a critical tipping point.
These cells then begin acting as a collective unit, constructing all the components necessary for survival in its next stage - such as wings, antennae, legs - eventually giving shape to the butterfly.
Through an act of destruction and reorganization, new life is born.
The Symbolism Of Transformation
"Transformation isn't sweet and bright. It's a dark and murky, painful pushing. An unraveling of the untruths you've carried in your body. A practice in facing your own created demons. A complete uprooting, before becoming." – Victoria Erickson
The metaphorical journey of a caterpillar transforming into a butterfly has long been used to express the process of personal growth and soul initiation.
It encapsulates the profound changes that we, as humans, undergo throughout our lives. Like the caterpillar, we too experience periods of intensive growth, moments of retreat and introspection, and spectacular transitions that redefine who we are.
Just as the caterpillar consumes voraciously, so too do we consume knowledge, experiences, and emotions. We take in, learn, and grow, building our bodies, minds, and spirits. Then, often triggered by a pivotal event or deep introspection, we retreat into our personal chrysalises, our safe spaces where we can ponder, digest, and transform these experiences.
The chrysalis stage can be likened to the periods in our lives when we're called to delve into our inner world. It's a time of introspection and reevaluation, where we dissolve old ways of being and prepare for a new phase of existence. This stage, often marked by solitude, stillness, and a sense of dissolution, can be challenging yet it's crucial for our transformation.
The emergence of the butterfly symbolizes the awakening of a new consciousness, a rebirth, or a spiritual initiation.
It's the culmination of a journey that was initiated in the depths of the chrysalis. Just as the butterfly spreads its wings and soars, we too emerge from our periods of introspection and transformation with new insights, perspectives, and a renewed sense of purpose. We're not the same as we were before; we've transcended our previous state of being and are ready to embark on a new chapter of our lives.
This metaphor is powerful because it doesn't shy away from acknowledging the struggle and discomfort inherent in the process of transformation. It recognizes that growth often involves periods of dissolution and uncertainty. But it also celebrates the potential for profound change and the emergence of a new, more evolved state of being. The butterfly serves as a beautiful reminder that we too have the capacity for tremendous growth and renewal.
Immersion into Sensory Metamorphosis
"Art enables us to find ourselves and lose ourselves at the same time." - Thomas Merton
As Susana painted away, I felt my body becoming lighter and brighter with each brushstroke. For near six hours, I closed my eyes and let myself get lost in the sensation of their brushes on my skin. Since the artists primarily spoke Spanish (and mine was quite amateur), we barely talked during the experience. I was really left to just savor the sensations.
The room, filled with the scent of paint and the soft melodies of etheric music, became my chrysalis. Words were scarce as I surrendered to the process, allowing the artists' creative energy to guide my transformation.
After close to six hours, my transformation was complete. I looked in the mirror and saw not just the vibrant colors and intricate patterns painted on my skin, but a reflection of my inner transformation. I felt lighter, freer, as if I'd emerged from my cocoon and was ready to soar. It was a celebration of the end of a chapter, the culmination of years of healing, and the beginning of a new journey.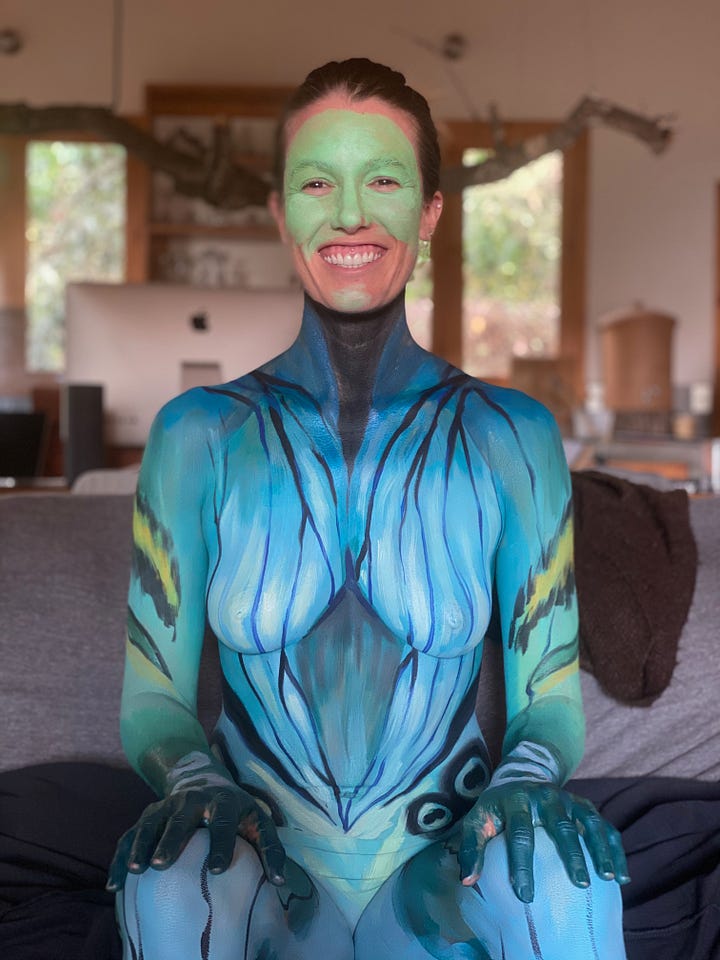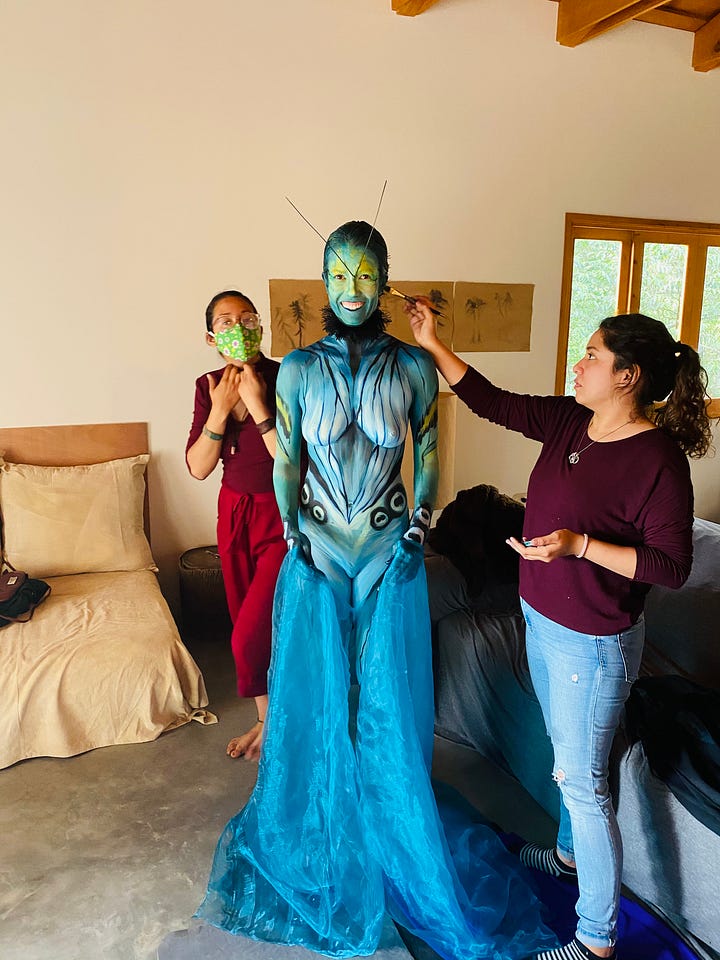 This story is a testament to the transformative power of art and personal expression. Through this creative process, I was able to externalize my internal journey, bringing to surface emotions and experiences that needed to be acknowledged and released. It was a healing process, a form of self-love, and a testament to my own resilience— my own ability to surrender to the imaginal cells within myself.
As I stepped onto the terrace, I spread my painted wings, ready to embrace the new chapter of my life while honoring the old. Just like the butterfly, I was ready to fly.
This journey mirrored the metamorphosis of the butterfly - a testament to the power of introspection, resilience, and the transformative force of art. I had grown, evolved, and emerged more vibrant, ready to embrace the next chapter of my life with newfound strength and clarity.
Like the butterfly, we are all capable of profound transformations. Even when we feel like we're dissolving, often we're on the verge of becoming something beautiful. Through our darkest moments, we find our wings.
In every ending, there lies the promise of a new beginning 🦋
"And the day came when the risk to remain tight in a bud was more painful than the risk it took to blossom." ~ Anaïs Nin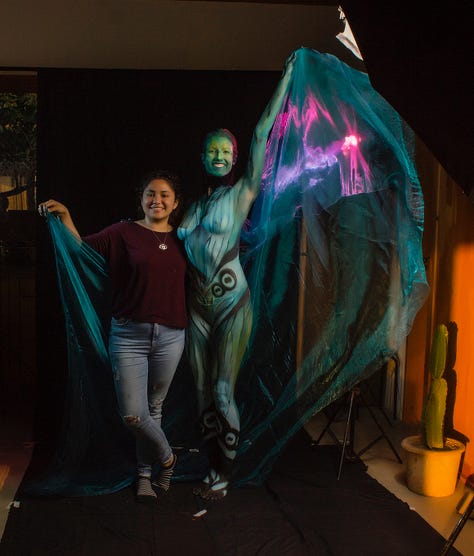 ~~~
A big MUCHAS GRACIAS to the artist Susana Olivia and her very talented team, including a photographer, accessorizer and lighting expert.
As well as my husband Jonny Miller for capturing candid moments and to our host at the gorgeous Airbnb in the hills of Antigua, Guatemala 🙏
Creating Your Own Expressive Arts Ritual for Transformation
Embarking on your own expressive arts ritual to celebrate personal transformation can be a deeply rewarding experience. Here are some steps to guide you on this journey:
Define Your Transformation: Reflect on your own personal transformation. What changes have you undergone? What stages of growth have you experienced? Understanding your transformation will help you decide how to express it creatively.

Choose Your Medium: Art is a vast field with numerous mediums to explore. You might choose body painting like I did, or you could turn to other forms of expression such as drawing, writing, dancing, or sculpting. Choose a medium that resonates with you and your story.

Create a Safe Space: Just like the butterfly needs its chrysalis, you need a safe and comfortable space to create your art. This could be a room in your house, a garden, or any place where you feel relaxed and free to express yourself.

Set Your Intention: Before you begin, set an intention for your art. This could be a word, a phrase, or a feeling that encapsulates your transformation. This intention will guide your creative process.

Immerse Yourself in the Process: Allow yourself to get lost in the creation of your art. Don't worry about the outcome, just focus on the act of creating. Listen to music, light a candle, or do whatever helps you get into a creative zone.

Honor Your Art: Once your piece is complete, take a moment to acknowledge and honor your creation. It's a reflection of your growth and transformation. You might choose to share your art with others, or keep it as a personal testament to your journey. Writing this post is part of my honoring process.
Remember, the goal of this ritual is not to produce a perfect piece of art, but to express and celebrate your personal transformation. The power of this ritual lies in the act of creation itself, and in the personal growth and understanding you gain from the process. In the same way a butterfly doesn't rush its emergence, don't rush yourself. Enjoy the process, and remember, transformation is a journey, not a destination.