Welcome to Wild on Purpose!
I'm Kelly Wilde Miller, and for over a decade, I've been on an incredible personal re-wilding journey to rediscover and reclaim my true, essential nature.
If you're a seeker on the meandering path of self-discovery, spiritual growth, creative embodiment and life alignment, then feel free to cozy up in this little corner of the web for a while.
This newsletter and the Wild on Purpose Podcast are dedicated to exploring the concept and journey of human re-wilding.
In both the newsletter and podcast, we delve into:
As a subscriber, you'll receive exclusive content, thought-provoking episodes, and personal stories from my own re-wilding journey. I'll share the questions, contemplations, and resources that have inspired me along the way, hoping to spark your curiosity and growth. Like this NSDR meditation on Insight Timer.
Thank you for being a part of this journey with me!
---
Meet Kelly Wilde Miller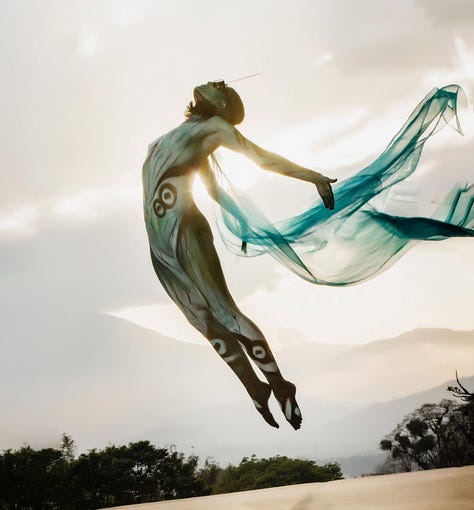 For many years I felt profoundly lost. Especially when it came to my career. I knew I was meant for something creative and unique to me— something only I could bring to the world.
The search for authentic alignment led me to opt out of the 'default path' and break free from the paradigms of success that were handed to me. For most of my 20's, I hopped jobs and wandered around the world. I sought support from healers, coaches, energy workers, gurus, and plant medicines.
I wish I could say it was "one thing" that led me home to myself and my purpose, but as my yoga teacher once said:
The cause of any one thing is, everything ✨
Through the years, I experienced a gradual healing and transformation. I call this journey: my path of 're-wilding.'
By stripping away the layers of conditioning and questioning the very identity structures that I had built my life around, I came home — home to my essential nature, creative self-expression, and intuitive, sensual body.
Personally, I'm married to Jonny Miller, a fellow podcaster + writer from Curious Humans and spend so much of my life-force energy loving on our English Cream Golden Retriever, Lola.
The 3 of us wild ones currently call Boulder, Colorado, our home 🏔️🐾
---
What to Expect Here
As of September 2023, Wild on Purpose is going through a quiet reinvention. Currently, all creation is on pause while I recalibrate to a new vision and production schedule. Things will kick back up around October.
You're welcome to subscribe now, though and peruse old posts. You'll also be the first to receive Wild on Purpose 2.0.
If you'd like to chat, come hang out with me on Twitter at @kellycwilde
Stay wild! Xx
~ Kelly
Thank you for considering joining my network and supporting my work!

Subscribe to Wild on Purpose
People
Kelly Wilde Miller
Re-Wilding Guide & Cyclical Creativity Explorer // Host of the Wild on Purpose Podcast // Undomesticated Housewife & Puppy Mom Rooting Down in Colorado, USA