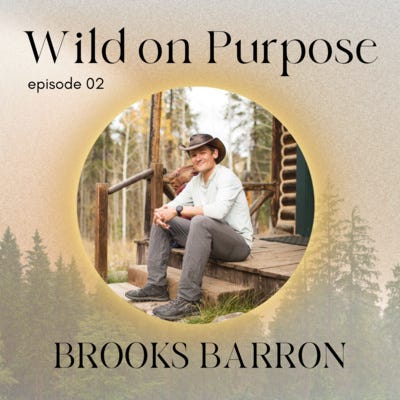 Nov 23, 2022 • 1HR 36M
02. Brooks Barron ~ Soul Initiations: Claim Your Darkness & Step into Your Light
Leadership Coach and Soul Guide ~ Brooks explores the nature of darkness as a vehicle for stepping fully into our light, cultivating meaning & coming alive within purposeful work
Appears in this episode
The Wild on Purpose Podcast is a destination for those deeply committed to knowing themselves. Together, we uncover the mysteries behind the human experience and how we may return to our essential nature. The show blends depth of inquiry with lightness and practicality so listeners may take inspired action in their own lives. We cover a wide-range of topics including mindset, peak performance, spirituality, integrated healing, psychedelics, business and relationships. Kelly is here to bring a raw, intuitive and unfiltered approach to to individual and collective storytelling.
"I believe that when we are in a state of connection with nature, we are more in touch with our own true nature. And when we're in touch with our own true nature, we're in more in touch with the true nature of everything around us." ~ Brooks Barron
Hello, Wild Ones ~
Brooks Barron (@starhearthawk) from
is the founder of
Starlight Leadership
and
Power Awakening
, leading visionaries through wilderness-based rites of passage.
Brooks was the co-guide on my 11-day wilderness-based vision quest with Animas Valley Institute in May 2021.
His work is a unique blend of executive coaching, wilderness initiations, medicine journeys, and soul guiding. His passion is to support leaders who are courageous enough to follow their inner truth, lean into their darkness and embody their light out in the world. 
In this conversation, we discuss Brooks' personal, educational and professional re-wilding journeys — from Stanford Graduate School to a San Francisco climate tech startup and eventually into the wilderness. His story traces the success paradigm of the 'traditional path' and highlights that fulfillment does not come from titles or achievements. Rather, it comes by prioritizing the needs, desires and genius of our soul.
A few show highlights ~
Our shared experiences on a wilderness-based vision fast with Animas Valley Institute & the teachings of Bill Plotkin

The necessity of healing and transforming within communities instead of further individualization and isolation

What it really means to 'embrace your darkness' as a vehicle for genuinely stepping into your light

How to identify the signs within yourself that it's time for a meaningful change in your life and your work in the world

The playful potency of cannabis sativa, a healing plant medicine, when consumed in a ceremonial fashion with experienced guides
And much more! If you are someone who has longed for greater meaning, depth, and purpose in your life or are a leader looking to create more meaningful change in the world, this episode is for you. If something stirs alive in you, please leave a comment and share it with the wild ones in your life.
Enjoy!
*
This episode was created by Kelly Wilde Miller (@kellycwilde), host of the Wild on Purpose Podcast and Newsletter. With special gratitude to Jabriel AlSuhaimi for the post-production editing.
*
Go Deeper with Starlight Leadership
If you're looking to go deeper, consider applying for Power Awakening with Brooks. Power Awakening is an initiatory rite of passage program that guides up to 10 participants through a psychospiritual death and rebirth process. It is designed to enable and accelerate what author Bill Plotkin calls The Journey of Soul Initiation. As a participant, you will:
Identify and shift key ego patterns that are keeping you stuck in a smaller, less developed, and less powerful version of yourself.

Ceremonially die and be reborn through an 8-day vision quest in the mountains of Colorado, on which you have the opportunity to make contact with the magical and mysterious energy of your soul.

Leave the program having integrated the gifts you received on your quest, holding an early but potent understanding of your unique soul's purpose, and carrying a powerful set of well-practiced tools to support you on the lifelong journey of embodying your light.
Next cohort dates: May 31 - Sept 6, 2023. Program components include the Starlight Quest (July 16-23, an hour outside of Aspen, Colorado), weekly group calls, four individual coaching sessions, and optional guided psychedelic journey work.
If you decide to apply, please mention Wild on Purpose.
*
Kind words from listeners about this episode:
Dear Kelly and Brooks,Your conversation felt like home. Each of your sentences resonated deeply. From feeling lost and a desire for community to meet you at your depth, to the tug of war between the old and what's to come and surrender. Like being with long-time friends.
Thanks for listening to Wild on Purpose! Subscribe for free to receive new posts and support my work.