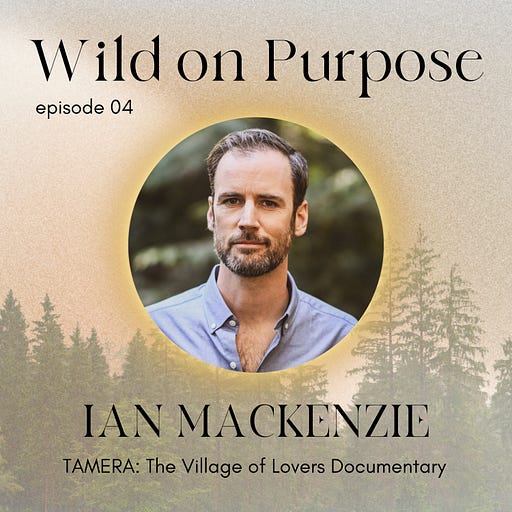 Dec 1, 2022 • 32M
04. Ian MacKenzie on Tamera: The Village of Lovers Documentary
Documentary Filmmaker, Creative Mentor, Podcast Host and Love Activist ~ Ian comes on for a quick preview of his new, ground-breaking documentary
Appears in this episode
The Wild on Purpose Podcast is a destination for those deeply committed to knowing themselves. Together, we uncover the mysteries behind the human experience and how we may return to our essential nature. The show blends depth of inquiry with lightness and practicality so listeners may take inspired action in their own lives. We cover a wide-range of topics including mindset, peak performance, spirituality, integrated healing, psychedelics, business and relationships. Kelly is here to bring a raw, intuitive and unfiltered approach to to individual and collective storytelling.
Hello, Wild Ones ~
Ian MacKenzie, documentary filmmaker and love activist, joins Kelly for a quick 30-minute 'wild card episode' to discuss his groundbreaking film project, Tamera: The Village of Lovers.
In this conversation, Ian shares why Tamera, a Peace Research and Education Center in Portugal, is a revolutionary model for Eros-based community living in a post-pandemic world — and what we can all learn from them regardless of where, how or with whom we choose to live. 
This episode is both a teaser for the film as well as an invitation to attend a 2-day immersive screening this upcoming weekend, December 3-4, called Reimagining Village. The weekend will feature interactive Q+A's with the filmmakers and exploratory sessions on Eros, Activism, Village and Partnership with speakers such as Sabine Lichtenfels, Aida Shibli and Charles Eisenstein. You can purchase tickets here. 
If you're unable to attend this weekend, then stay tuned for the global release of Tamera: Village of Lovers in Spring 2023.
Conversation Resources:
The 'Wild Card Episodes' on the Wild on Purpose Podcast are intentional deviations from our usual programming. These episodes are raw, unedited, and usually time-sensitive but still fit under the WoP mission to advance our individual and collective re-wilding. When watching or listening, please excuse any sound quality problems, rough cuts, and lack of formal introduction. 
Enjoy!
***
This episode was created by Kelly Wilde Miller (@kellycwilde), host of the Wild on Purpose Podcast and Newsletter. Special gratitude to Jabriel AlSuhaimi for the post-production editing.